A New Experience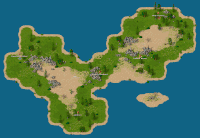 General Information
Type:
Search
Players:
1
Difficulty:
1
Duration:
2½ days
XP:
0
V • E •

D
Description
A New Experience is a simple search-type adventure that should be completed for a quest during the 20th Anniversary Event.
Objectives
Find, and click on, the following items on the map:
Bed of Roses
Broken Handcart
Flowerbed (Blue)
Golden Bench
Lantern
Completion
The adventure is over when you have found and clicked on the five required items.  The map image on the right shows the locations of each object.