Barracks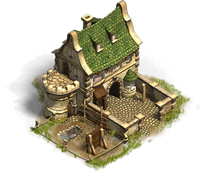 V • E • D
Description
Obtained during the Tutorial at Level 12, the Barracks is a building you will use a lot. It is here that you combine unemployed Settlers, Brew and Weapons to make Troops of all kinds to do battle for you.
While not affected by Proximity, it is wise to have it somewhere near your HQ to make it easy to locate and check on during Adventures and Army creation.
Upgrading
Upgrading to Level 3 as soon as possible is very useful as at later levels the time it takes to produce higher quality Troops increases massively. Once you get into Cavalry production and beyond it is also wise to time your production to work over night when an fighting force can take 12 hours + to generate.
Upgrading over Level 3 is tough with that 5,000 Coins requirement but it should be saved up for as later Adventures, such as Sons of the Veld , require days of near continous troop production if your Barracks is too low a level.
See the Unit Production Times table below.
Summary
| Resources | Produces | Consumed | Cycle | Construction |
| --- | --- | --- | --- | --- |
| 80    120   | Troops | Various | Variable | 10 min. |
Upgrades
| Level | Gems | Resources Required | Upgrade | Per Cycle | Consumed |
| --- | --- | --- | --- | --- | --- |
| 1 > 2 | 1,181 | 500    650 | 2 min. 30 sec. | +100% | N/A |
| 2 > 3 | 4,275 | 1,000   3,000 | 1 hour | +50% | N/A |
| 3 > 4 | 18,000 | 5,000   2,000 | 24 hours | +33% | N/A |
| 4 > 5 | 21,834 | 9,000   5,000 | 7 days | +25% | N/A |
| 5 > 6 | 11,115 | 800   5,000 | 7 days | +20% | N/A |
Building Movement Costs
Unit Production Times
Production Time per Unit (Mins)
Unit
Level
Costs
Lvl1
Lvl2
Lvl3
Lvl4
Lvl5
Lvl6
Recruit
15+
5  10
 
3:00
1:30
1:00
0:45
0:36
0:30
Bowman
17+
10  10
 
4:00
2:00
1:20
1:00
0:48
0:40
Militia
21+
10  10
 
8:00
4:00
2:40
2:00
1:36
1:20
Cavalry
23+
30  40
 
18:00
9:00
6:00
3:00
2:24
2:00
Longbowman
25+
20  10
 
8:00
4:00
2:40
2:00
1:36
1:20
Soldier
27+
15  10
 
12:00
6:00
4:00
3:00
2:24
2:00
Crossbowman
36+
50  10
 
20:00
10:00
6:40
5:00
4:00
3:20
Elite Soldier
41+
50  10
 
32:00
16:00
10:40
8:00
6:24
5:20
Cannoneer
48+
50  10
 
30:00
15:00
10:00
7:30
6:00
5:00
Appearance
Barracks
Level 1
Level 2
Level 3
Level 4
Level 5