Bone Church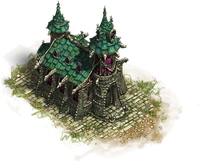 General Information
Size:
2x3
Type:
Bandit Camp
V • E • D
Description
The Bone Church is one of the main bandit camps in the Dark Priests Adventure, though it can also been seen in other adventures.  It's appearance, and name, suggest a sinister building constructed partly from bones, unlike the regular Church.
Hospitable Bone Church
The Hospitable Bone Church is a 'residence' building with a vertical 2x3 layout, like a watermill turned sideways. It houses 100 settlers comfortably.
It is available from two sources:
References