Bounty Hunter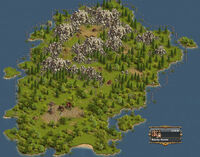 A rich merchant seeks your help.

Some business partners have double-crossed him and now he wants revenge. They have set up camps in a nearby canyon.
General Information
Type:
Resource
Players:
1
Difficulty:
1
Duration:
3 days
XP:
202
V • E •

D
| | |
| --- | --- |
| Units Required: | 80C |
| Days to complete: | 3 |
Description
The Bounty Hunter Adventure is given automatically once you Level up to level 26 and your own island is cleared of enemies and becomes the default way to make XP. Or, you can buy this adventure in the Merchant Store for 10 fish.
This is exceedingly easy if you take 80 Cavalry and attack every camp with all 80, you'll take no losses at all. If you do not have cavalry, then you should send at least 84 recruits, and expect to lose between 17 and 28 of them.
Confused? See "What do these letters mean?"
Sector
Enemy
Attack With

Attack camp to the North of you.

Sector1
Camp 1
80C

Move North next to camp, attack the camp beyond the one closest to you and watch your distracted general take out both with no losses.

Sector2
Camp 2 & 3

80C

Attack the next camp from the same position.
Sector3
Camp 4
80C
Attack the final Leader camp from the same position.
Leader Camp
80C
Bandits
The following bandits are found in The Bounty Hunter adventure.
Rewards