Bronze Weaponsmith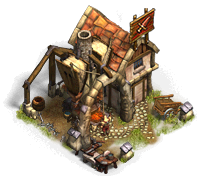 V • E • D
Description
Possibly the most important building in the whole game to be constantly in production as the basic Recruit is the staple of every battle and will save you from costly losses at every level.
Each Recruit requires 10 of these Bronze Swords to enlist him at the Barracks , when combined with an unempoyed Settler and 5 Brew.
As with other production buildings its output can be temporarily doubled with a Buff and can be permanently upgraded with resources.
Summary
| Resources | Produces | Consumed | Cycle | Construction |
| --- | --- | --- | --- | --- |
| 60    90    30 | 1 | 1    2 | 6 min. | 3 min. |
Upgrades
Building Movement Costs
Ratios
Appearance
Bronze Weaponsmith
Level 1
Level 2
Level 3
Level 4
Level 5