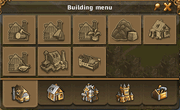 Buildings are what you need to create a vibrant and smooth economy in The Settlers Online. Some buildings directly feed others with products while others produce end good(s) which give your settlers the tools and weapons to allow them to expand and conquer. This is a list of the currently available building options:
Special Buildings
These are classified as special buildings because they can not be build or destroyed.
Basic Buildings
The basic buildings are where you get your start on creating your settlement and you should never under estimate the importance of these buildings in your economy.
Intermediate Buildings
Intermediate buildings help develop the basic elements you will need for war with your enemies and support your growing islanders goals.
Intermediate

Copper Mine

Coking Plant

Toolmaker

Copper Smelter

Trade Office

Farm

Wheatfield

Well

Bronze Weaponsmith

Brewery

Barracks

Residence

Bookbinder

Finesmith

Simple Papermill

Mill

Bakery

Bowmaker

Guild House

Guild Bank



Combat Academy




Combat Armoury
Advanced Buildings
Advanced Buildings are a bit more powerful and take advantage of the better consumables you are starting to obtain to make higher grade products.
Expert Buildings
Expert Buildings are the current pinnacle of Settler technology and are hard to obtain due to their high level but the powerful war weapons they provide will put any enemy to a quick end.
Elite Buildings
No summary
Expert Buildings



Island Storehouse




Mahogany Wood Sawmill




Exotic Wood Cutter




Exotic Wood Forester




Platinum Weaponsmith




Elite Barracks




Platinum Smelter




Homestead




Weaver




Saddlecloth Weaver




Elite Stable




Arquebus Maker




Wagon Maker




Foundry


Granite Mason



Titanium Mine




Saltpetre Mine




Manor
Architect Buildings
Additional buildings available for purchase from the Architect category at the Merchant.
Epic Buildings
The following buildings can be found in the 'Epic' tab of the Merchant Chest, and require a high level.
Adventure Buildings
These buildings are obtained as rewards for completing various adventures.
Event Buildings
These buildings are made available during special events throughout the game.