Description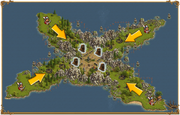 Co-operative Adventures are Adventures which are designed in a special way to be completed by several players working together. Each participating player lands on the adventure at a different spawn location, and all players need to be involved in order to successfully and efficiently complete the adventure.
A cooperative adventure can only be cancelled by the player who started it. If the adventure is cancelled, all the players involved are moved back from the adventure map to their home islands and they receive Experience Points (or Star Coins for level 50 players) based on their contribution (i.e. defeated units). In case of a cancellation, the end reward will not be provided.
Co-operative adventures were introduced to the Test Server on Wednesday 8th January 2014.
Obtaining Co-operative Adventures
Cooperative adventures start from level 26 and can be obtained in many ways:
Adventure List
| Icon | Adventure | Players | Days | Difficulty | Max XP | Cost |
| --- | --- | --- | --- | --- | --- | --- |
| | The Siege | | 4 days | | 61,??? | 150 |
| | The Buccaneer Roundup | | 4 days | | 36,??? | 150 |
| | Raiding the Raiders | | 4 days | | 63,??? | 295 |
| | Lakeside Treasure | | 4 days | | 68,??? | 295 |
| | Tomb Raiders | | 4 days | | 73,??? | 485 |
| | Whirlwind | | 4 days | | 98,??? | 395 |