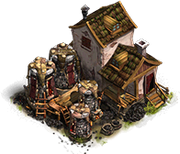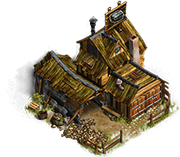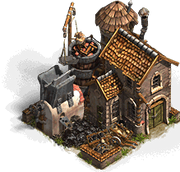 Description
Coal is a resource that is widely used in the refining of base ores into metals and smelting into weapons. Coal is initially only produced in a Coking House that charcoals Pinewood and later it also comes directly from Coal Mines.
Recycling Manufactory are also available for gems, or during some Events.
Coking Plant
The coking plant is the first building available which produces coal. It consumes Pinewood, converting it to Coal. It does not require any other deposit to be searched for.
Coal Mine
The coal mine is a building placed onto a coal resource. The coal resource needs to be found by an Explorer. There are three coal deposits in Sector 6, and three in Sector 7.
Recycling Manufactory
The Recycling Manufactory produces coal from nothing. It produces coal at the same rate as the Coking Plant, but does not consume any Pinewood.
Uses
Coal is used in the following buildings:
Copper Smelter
Bronze Weaponsmith
| Process | Requirements |
| --- | --- |
| | 1 Bronze and 2 Coal are used to make 1 Bronze Sword. |
Iron Smelter
| Process | Requirements |
| --- | --- |
| | 4 Iron Ore and 6 Coal are used to make 1 Iron. |
Iron Weaponsmith
| Process | Requirements |
| --- | --- |
| | 2 Iron and 8 Coal are used to make 3 Iron Sword. |
Steel Smelter
| Process | Requirements |
| --- | --- |
| | 2 Iron and 6 Coal are used to make 1 Steel. |
Steel Weaponsmith
| Process | Requirements |
| --- | --- |
| | 2 Steel and 16 Coal are used to make 1 Steel Sword. |
Titanium Smelter
Gold Smelter
| Process | Requirements |
| --- | --- |
| | 2 Gold Ore and 8 Coal are used to make 1 Gold. |