Coinage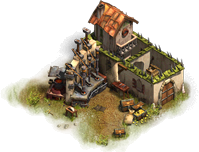 Produces coins.
V • E • D
Description
The Coinage is part of the Gold production line and is a pretty slow process and difficult to maintain due to the high costs.
Combined with the Gold Mine and Gold Smelter the Coinage creates a slow trickle of Coins into your economy that is extremely useful with the rarity of Coins at higher levels.
As with other production buildings its output can be temporarily doubled with a Buff and can be permanently upgraded with resources.
Summary
| Resources | Produces | Consumed | Cycle | Construction |
| --- | --- | --- | --- | --- |
| 2,500    2,500    3,000 | 1 | 4   | 24 min. | 20 min. |
Upgrades
Building Movement Costs
| Level | Gems | Resources Required |
| --- | --- | --- |
| 1 | 69 | 1,000   1,000 |
| 2 | 85 | 1,500   1,000 |
| 3 | 121 | 1,500   1,250 |
| 4 | 225 | 2,000   2,000 |
| 5 | 387 | 1,500   2,000 |
| 6 | N/A | N/A |
Ratios
Appearance
Coinage
Level 1
Level 2
Level 3
Level 4
Level 5