Crossbowsmith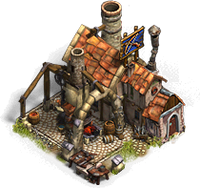 General Information
Size:
2x2
Type:
Production
Workers:
Settlers
Level 1:
5,000  2,500  6,000
 
Level 2:
2,000  4,000
 
Level 3:
3,000  6,000
 
Level 4:
8,000  7,500
 
Level 5:
10,000  9,000
 
Process:
V • E • D
Description
Much like the Longbowmaker the Crossbowsmith turns Exotic Wood logs and Titanium bars into Crossbows. It is wise to get an upgraded hut placed as soon as you can and allow Crossbows to pile up over a period of time.
As with the other high level weapon buildings the process is very slow and expenesive in resources. Crossbows make Crossbow troops in the Barracks for your fighting force at a cost of 10 Crossbows per Troop.
As with other production buildings its output can be temporarily doubled with a Buff and can be permanently upgraded with resources.
Summary
| Resources | Produces | Consumed | Cycle | Construction |
| --- | --- | --- | --- | --- |
| 5,000    2,500    6,000 | 1 | 6    16 | 32 min. | 40 min. |
Upgrades
| Level | Gems | Resources Required | Upgrade | Per Cycle | Consumed |
| --- | --- | --- | --- | --- | --- |
| 1 > 2 | 13,464 | 2,000    4,000 | 20 min. | 2 | 12    32 |
| 2 > 3 | 20,196 | 3,000   6,000 | 2 hours | 3 | 18    48 |
| 3 > 4 | 24,881 | 8,000   7,500 | 2 days | 4 | 24    64 |
| 4 > 5 | 30,429 | 10,000   9,000 | 10 days | 5 | 30    80 |
| 5 > 6 | N/A | N/A | N/A | N/A | N/A |
Building Movement Costs
| Level | Gems | Resources Required |
| --- | --- | --- |
| 1 | 168 | 2,400   2,400 |
| 2 | 237 | 5,000   2,000 |
| 3 | 381 | 5,000   3,500 |
| 4 | 675 | 6,000   6,000 |
| 5 | 1,075 | 4,000   6,000 |
| 6 | N/A | N/A |
Ratios
Appearance
Crossbowsmith
Level 1
Level 2
Level 3
Level 4
Level 5