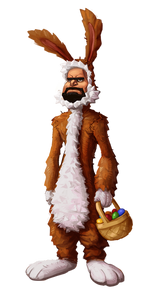 Description
The Easter Adventures are part of the Easter Event. They take the form of adventure maps, in which 10 eggs are hidden. The player is required to find and click on each of the eggs to complete the Adventure.
During the Easter event, the guy in the rabbit suit will give you one quest chain every 6 days. Each quest chain will usually require you to complete two of the Easter adventures.
The adventures are all available from the Merchant for one Fish, but these provide no rewards. They may be used as backups, in case you cancel an adventure you need for a quest, or as practise adventures, or just-for-fun.
Easter 2012
The Easter event in 2012 lasted from Thursday 12th April until Thursday 3rd May, and there were 10 adventures available.
| | | | | |
| --- | --- | --- | --- | --- |
| | Paper Chase - First Stage | | | Paper Chase - Second Stage |
| | Paper Chase - Last Stage | | | Lost Easter Eggs |
| | The Search Continues | | | The Last Island |
| | Easter Eggs in the Mountains | | | Easter Eggs in the Desert |
| | Easter Eggs in the Dark Woods | | | End of the Easter Egg Search |
Easter 2013
The Easter event in 2013 ran for 3 weeks from Thursday 21st March until Thursday 11th April, and had just 8 adventures, which had different names to the previous year, although the icons were recycled.
Easter 2014
During the Easter 2014 event, the same eight 'egg hunt' adventures from the 2013 event were used, but were no longer available from the Merchant Chest. They could only be done when required by an Easter quest.
There was, however, a new adventure added this year, which could be purchased from the Merchant Chest for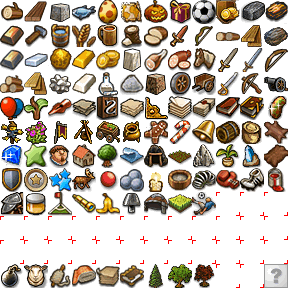 95.