Exotic Wood Sawmill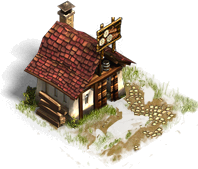 General Information
Size:
2x2
Type:
Production
Workers:
Settlers
Level 1:
9,000  3,000  3,500
 
Level 2:
600  2,000
 
Level 3:
1,000  3,500
 
Level 4:
6,000  5,000
 
Level 5:
8,000  6,000
 
Process:
V • E • D
Description
The Exotic Wood Sawmill is used to create Exotic Wood Planks from Exotic Wood that is found during Adventures and from higher level Explorer Resource Searches.
Exotic Wood is very scarce at first and you should gather it up until you can make the Sawmill and start to process into Exotic Wood Planks.
The high expense is easily justified when its produce makes the high level upgrades accessable when combined with Granite.
Try to make your Sawmill work 24/7 with Buffs and upgrades to make up for the extremely slow production time.
Summary
| Resources | Produces | Consumed | Cycle | Construction |
| --- | --- | --- | --- | --- |
| 9,000    3,000    3,500 | 1 | 1   | 12 min. | 20 min. |
Upgrades
| Level | Gems | Resources Required | Upgrade | Per Cycle | Consumed |
| --- | --- | --- | --- | --- | --- |
| 1 > 2 | 5,472 | 600    2,000 | 20 min. | 2 | 2   |
| 2 > 3 | 9,419 | 1,000   3,500 | 2 hours | 3 | 3   |
| 3 > 4 | 17,541 | 6,000   5,000 | 2 days | 4 | 4   |
| 4 > 5 | 22,194 | 8,000   6,000 | 10 days | 5 | 5   |
| 5 > 6 | N/A | N/A | N/A | N/A | N/A |
Building Movement Costs
| Level | Gems | Resources Required |
| --- | --- | --- |
| 1 | 153 | 3,000   1,500 |
| 2 | 172 | 3,000   2,000 |
| 3 | 256 | 4,000   1,500 |
| 4 | 450 | 4,000   4,000 |
| 5 | 687 | 4,000   2,500 |
| 6 | N/A | N/A |
Appearance
Exotic Wood Sawmill
Level 1
Level 2
Level 3
Level 4
Level 5