Gem Pit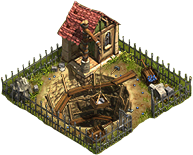 Deep within the bowels of the Earth, subjected to incredibly severe conditions, your men have amazingly discovered a gem lode. Only your most adept diggers are capable of unearthing these precious gems while risking their very lives.
General Information
Size:
2x2
Type:
Mine
Level 1:
20,000
Process:
V • E • D
Description
The Gem Pit produces Gems. This building cannot be upgraded or buffed. When purchased it contains 40,000 gems, and takes 12 months to produce them all, at a rate of just over 4 gems per hour. You can buy a maximum of 10 of these from the Merchant, when all of them have run out of Gems, you cannot buy another.
The Gem Pit should not be demolished.  If demolished, it will NOT return to the Star Menu.
Statistics
Building Costs 20,000 Gems
Building Licence Used No
Tradeable No
Produces Gems
Production Time 13 Minutes 09 Seconds
Used Resource Gem deposit
Building Class Gem Building
Production For Merchant
Consumption For Gem deposit
Thanks to peck_ed of the Newfoundland server for this information.