Description
Gems are the games premium item currency and are purchasable with real money.
Thankfully you can also obtain gems by logging in every day (100 Gems for every concurrent 7 days played) and leveling up at the higher levels.
Gems are spent at the Store and exchanged for premium content, some of it is extremely useful and some will speed up the pace of your game.
Gems can also be spent on speeding up processes such a making Troops and building new structures. In general use of Gems in this way is an expensive waste for extremely short term gain.
Promotions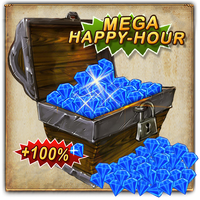 If you choose to purchase gems with real money, then there are often promotions in the Gem Shop, allowing players to buy more than the usual number of gems for their cash.  Many players will only buy gems when these promotions are on.
These are called Happy Hour, but often last for several hours, or somtimes for the duration of an event.
The percentage is displayed in the Gem Shop, next to the prices, and shows how many extra gems you will receive. For example, if the promotion shows +100%, then you will get 100% extra gems for your purchase, or double the normal amount.
Common promotions are:
| Icon | Extra Gems | Details |
| --- | --- | --- |
| | 20% | Often found during an event. |
| | 50% | Happens rarely |
| | 100% | Happens rarely, and usually for just a few hours on one day. |
10th Anniversary
During the 10th anniversary there was a special promotion to celebrate the long standing success of The Settlers franchise. Rather then the usual +100% players where able to get +200% (so 300% total!) as a special offer. It is noticable because till date it has only happened once!