Gold Smelter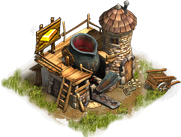 V • E • D
Description
The Gold Smelter takes the raw Gold Ore, adds a few nuggets of Coal and produces a useable ingot of Gold that can be fashioned by the Coinage into Coins.
The Gold Smelter is a slow process and benefits from at least 1 upgrade and Buffed as much as possible.
As with other production buildings its output can be temporarily doubled with a Buff and can be permanently upgraded with resources.
Summary
| Resources | Produces | Consumed | Cycle | Construction |
| --- | --- | --- | --- | --- |
| 2,000    2,000    2,500 | 1 | 2    8 | 12 min. | 10 min. |
Upgrades
| Level | Gems | Resources Required | Upgrade | Per Cycle | Consumed |
| --- | --- | --- | --- | --- | --- |
| 1 > 2 | 4,208 | 800    1,500 | 2 min. 30 sec. | 2 | 4    16 |
| 2 > 3 | 2,936 | 800   1,000 | 1 hour | 3 | 6    24 |
| 3 > 4 | 7,054 | 1,800   2,500 | 24 hours | 4 | 8    32 |
| 4 > 5 | 16,470 | 4,000   6,000 | 7 days | 5 | 10    40 |
| 5 > 6 | N/A | N/A | N/A | N/A | N/A |
Building Movement Costs
Ratios
Appearance
Gold Smelter
Level 1
Level 2
Level 3
Level 4
Level 5