Guild House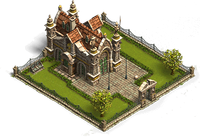 Allows you to start your own guild.
V • E • D
Description
The Guild House should only be built if you want to start your own guild. While they do take up land and a Building Licence the benefits of guild communities are hard to overstate.
There is no Proximity bonus for a Guild House so there is no need to build it near a Storehouse.
View the Guilds section to get more information on how and why you should join a guild.
Summary
| Resources | Produces | Consumed | Cycle | Construction |
| --- | --- | --- | --- | --- |
| 5,000    5,000    3,000 | Ability to create a Guild | N/A | N/A | 60 min. |
Building Movement Costs
| Level | Gems | Resources Required |
| --- | --- | --- |
| 1 | 2,425 | 2,000   1,500 |
| 2 | N/A | N/A |
| 3 | N/A | N/A |
| 4 | N/A | N/A |
| 5 | N/A | N/A |
| 6 | N/A | N/A |
Appearance
Guild House
Level 1
Level 2
Level 3
Level 4
Level 5