Hardwood Sawmill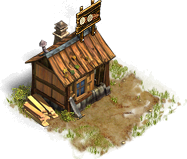 V • E • D
Description
The Hardwood Sawmill is used to create Hardwood Planks from the raw Hardwood that the Hardwood Cutter produces.
The planks are the basis for many of the midlevel buildings in the game and can even be created by converting Pinewood Planks at the Provision House.
They are also the basis for many upgrade trees and are often combined with Marble to get your upgrades going.
Summary
| Resources | Produces | Consumed | Cycle | Construction |
| --- | --- | --- | --- | --- |
| 90    135    75 | 1 | 1   | 9 min. | 5 min. |
Upgrades
Building Movement Costs
Ratios
Appearance
Hardwood Sawmill
Level 1
Level 2
Level 3
Level 4
Level 5