Iron Mine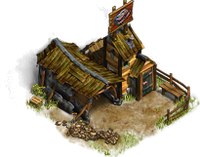 V • E • D
Description
The Iron Mine is used to mine Iron Ore for production of Weaponary and must be placed on top of a Iron Deposit found by your Geologist.
At this time it is possible to be using a maximum of 16 of the 17 Iron Deposits at any one time. As a resource it is wise to have as many mines in continuous production as you can consume and store.
As with other production buildings its output can be temporarily doubled with a Buff and can be upgraded for the duration of the mines current life with Tools, the tools upgrade is lost once the mine depleats. Mines can also be replenished with boosts found randomly during Adventures or purchased with Gems from the Store and prolong the life of the mine and its upgrade.
Summary
| Resources | Produces | Consumed | Cycle | Construction |
| --- | --- | --- | --- | --- |
| 250    250    200 | 1 | 1   | 6 min. | 5 min. |
Upgrades
| Level | Gems | Resources Required | Upgrade | Per Cycle | Consumed |
| --- | --- | --- | --- | --- | --- |
| 1 > 2 | 74 | 150   | 2 min. 30 sec. | 2 | 2   |
| 2 > 3 | 149 | 300  | 5 min. | 3 | 3   |
| 3 > 4 | 248 | 500  | 7 min. 30 sec. | 4 | 4   |
| 4 > 5 | 495 | 1,000  | 7 days | 5 | 5   |
| 5 > 6 | N/A | N/A | N/A | N/A | N/A |
Ratios
Time Tables
Costs and Production for a number of Mines
Mines
HWP
Marble
Tools lvl1
Tools lvl2
Tools lvl3
Tools lvl4
Tools lvl5
1
250
250
200
350
650
1150
2150
2
500
500
400
700
1300
2300
4300
3
750
750
600
1050
1950
3450
6450
4
1000
1000
800
1400
3250
4600
8600
5
1250
1250
1000
1750
3250
5750
10750
Time (Hours, 500 ore)
54.17
27.08
18.06
13.54
10.83
Time (Hours, 550 ore)
59.58
29.79
19.86
14.9
11.92
Appearance
Iron Mine
Level 1
Level 2
Level 3
Level 4
Level 5