Iron Smelter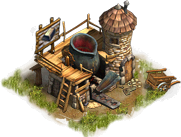 V • E • D
Description
The Iron Smelter takes the raw Iron Ore, adds a few nuggets of Coal and produces a useable ingot of Iron that can be fashioned by the Iron Weaponsmith into useful items.
Iron is also used by the Steel Smelter in the production of Steel and then into even more powerful weapons.
For this reason it is wise to upgrade the Iron Smelter when possible and let the Iron build up over time, you might not use Militia in any great number but Steel is extremely useful and slow to produce.
As with other production buildings its output can be temporarily doubled with a Buff and can be permanently upgraded with resources.
Summary
| Resources | Produces | Consumed | Cycle | Construction |
| --- | --- | --- | --- | --- |
| 300    300    250 | 1 | 4    6 | 12 min. | 5 min. |
Upgrades
Building Movement Costs
Ratios
Appearance
Iron Smelter
Level 1
Level 2
Level 3
Level 4
Level 5