Lakeside Treasure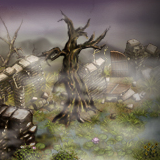 An old treasure map we found points to a great treasure hidden on a small island. It seems to be linked to an ancient civilisation.

Set sail for this island and find the treasure!
General Information
Type:
Co-operative
Players:
2
Difficulty:
5
Duration:
4 days
V • E •

D
Description
Lakeside Treasure is a Co-operative Adventure, which was introduced to the Test Server on Wednesday 8th January 2014.

It requires 2 participants, who each have to clear the three sectors on their side of the island, to reach the centre of the island. The centre of the island is blocked until both players have cleared their own sectors, which have the same camps for each player.
Guide Information
Note that the following background colours are used in the guide below for different Generals:
Normal General
(max. 200 troops)
Battle-Hardened General
(max. 200 troops)
Veteran General
(max. 250 troops)
Major General
(max. 270 troops)
Guide
The following guide is based on a first-try through the adventure. It has not been tried and tested, so you should double-check every attack before sending it, with a combat simulator.
Map
Bandits
The following bandits can be found in the Lakeside Treasure adventure:
Rewards
Slot 1
Slot 2
Slot 3
Slot 4+5
Slot 7
Outdated Pre 21-Jan patch on Testserver
Slot 1
Slot 3+4
Slot 5
Slot 6
Slot 2
Slot 7