Marble Mason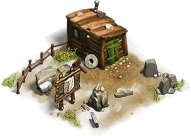 V • E • D
Description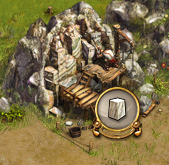 The Marble Mason produces Marble and along with Hardwood chain it is the basis for making more advanced buildings and many building upgrades. Marble Masons are placed near Marble Deposits that are found by the Geologist once you reach level 17.
Marble Deposits can be mined faster by upgrading your Marble Mason and/or placing multiple Marble Masons near the same deposit.
When you own a Provision House 250 Stones can be converted to 50 Marble under the Resources tab.
As with other production buildings its output can be temporarily doubled with a Buff and can be permanently upgraded to higher levels.
There are two Marble Deposits in Sector 1 (the initial sector) but only 1 can be active at any one time. Sectors 5 and 3 open up an extra 2 per sector, and Sector 8 adds another 5 Marble Deposits. It is wise to place Storehouses near these deposits with at least two Marble Masons in order to maximise production.
Summary
| Resources | Produces | Consumed | Cycle | Construction |
| --- | --- | --- | --- | --- |
| 120    150    100 | 1 | 1   | 9 min. | 5 min. |
Upgrades
Building Movement Costs
Appearance
| | | | | | |
| --- | --- | --- | --- | --- | --- |
| | | | | | |
| Level 1 | Level 2 | Level 3 | Level 4 | Level 5 | Level 6 |