Mason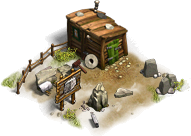 The stone mason.
V • E • D
Description
The Mason produces Stone and along with Pinewood is the basis for making buildings, conversion to Marble and is placed near stone deposits found by the Geologist. Stone deposits can be mined faster by upgrading your Mason and/or placing multiple Masons near the same deposit.
When you own a Provision House 250 Stones can be converted to 50 Marble under the Resources tab and ensures that investment of in lots of Masons early on remains a good investment.
As with other production buildings its output can be temporarily doubled with a buff and can be permanently upgraded to higher levels.
Summary
| Resources | Produces | Consumed | Cycle | Construction |
| --- | --- | --- | --- | --- |
| 40    30   | 1 | 1   | 5 min. | 1 min. |
Upgrades
Building Movement Costs
Appearance
| | | | | | |
| --- | --- | --- | --- | --- | --- |
| | | | | | |
| Level 1 | Level 2 | Level 3 | Level 4 | Level 5 | Level 6 |