Moving a Building *New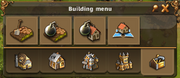 Included in the Update 16 AUG 2012, you now have the option to move a building (Unfortuantely this does not include Storehouses). Moving buildings saves you both time and resources, since you do not have to destroy, rebuild and re-upgrade a building when you need to rearrange your settlement for improved Production Chains.
Select the Building Menu, then select the Toolbox.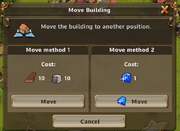 Move your cursor to the building you wish to move, and click on it. You will be given the option of two Move Methods, 1 or 2.
Method 1 will cost you resources to move (e.g. 10 Pine Wood Planks + 10 Stone).
Method 2 will cost you Gems, which is typically the level of the building (e.g. Level 1 Provision House costs 1 Gem).
After you choose your Method, you can then move the building cursor around your settlement as if you were placing a new building. After you select your location you will be prompted to confirm you still wish to use resources or Gems (depending on the Method you chose) to move your building. Confirm the selection and in a few seconds your building will instantly move to the new location.
Moving Storehouses
Moving a Storehouse remains the same as it was pre-update. Firstly build the new storehouse in the sector before demolishing the first one (failing to do so will lose you the sector and demolish the buildings within).
Community content is available under
CC-BY-SA
unless otherwise noted.