Noble Residence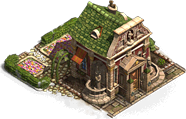 Houses settlers.
V • E • D
Description
The Noble Residence is currently the best home for Settlers in the game and gives a meaty +30 to your population limit for the basic house and +10 per upgrade and is available at Level 19.
Noble Residences can be purchased in the Store for Gems as well, these purchased residences do not take up any Building Licenses but cost 95 Gems instead. For this reason they are a very popular item to send/receive as a gift.
Note: it's more cost effective to save up for the +10 Building Licences instead of the Noble Residence Deed.
Summary
| Resources | Produces | Consumed | Cycle | Construction |
| --- | --- | --- | --- | --- |
| 105    35   | +30 Population | N/A | N/A | 10 min. |
Upgrades
Building Movement Costs
Appearance
Noble Residence
Level 1
Level 2
Level 3
Level 4
Level 5