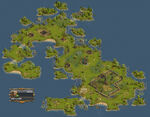 Old Friends Adventure
Units Required:

Normal general: 521R 70M 85S 130LB 125C (927 total)

MMA {464R 169S 64C 155XB} (852 Total)

Veteran general:

[473R, 70M, 177S 130LB, 64C] (914 total)

Veteran general with crossbows

<119 + XB>

Days to complete:
2
Adventure was only obtainable as a reward from completing the Witch of the Swamp Adventure.
Now it can also be acquired from other players via trades and from the trading system in general.
A useful adventure to rid yourself of unwanted Militia units in the final tower battle, you can then replace them with Soldiers units.
It should be noted that you can, in most cases, use Militia instead of the Soldiers without any significant extra losses.
Sector
Enemy
Attack With
Losses

Transfer Garrisons to the Island SW of the witches tower.

Note - you can take it the witch tower first by blocking the first 100C/50S/20D camp with 1R general. You will need to bring more cavalry, but you save 100+ recruits.

Sector 1

100 Cultist, 50 Sneaker, 20 Dervish

115R, 85S

{51R 169S}

[73R, 177S]

102-115R

{51R}

[52-67R]

Sector 2
100 Cultist, 50 Dark Priest, High Priest

200R / 25R, 60S, 115LB

{116R 2S 24C 78XB}

[137R 2S 29C 82XB]

200R / 20-25R

{151R}

[124R - 134R - 137R]

Sector 3
80 Cultist, 40 Sneaker, 40 Firedancer

74R, 1S, 125C

{76R 144S}

or [75R, 175S]

or [83R 167S]

74R, 25C

{76R}

[75R, 5-8S]

[79R-83R, 1S]

Doing this one last, enables you to take fewer Cavalry. Alternatively, you can take it out first by blocking the first 100C/50S/20D camp with 1R general.
Sector 1
50 Cultist, 50 Dark Priest, Dark HP, Witch

122R, 64C / 70M, 130LB

or

122R, 64C / [80R 10S 160XB] (the more XB you use, the fewer recruits you lose - check the combat simulator)

W1 121R 64C : W2 {64R 1S 155XB}













W1 121R 64C : {64R}
Rewards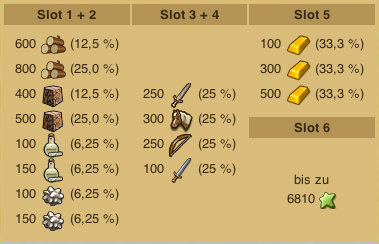 Enemies