Old Ruins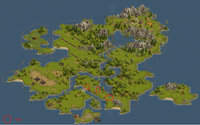 Dark ruins glowing mystically, changing the appearance of buildings. This is the problem these people have to deal with. They could really do with a hand.
General Information
Type:
Event
Players:
1
Difficulty:
4
Duration:
3 days
V • E •

D
| | |
| --- | --- |
| Units Required: | 378R, 93M, 180C, 192S, 170L |
| Days to complete: | 3 |
The new adventure leads you to an island famous for its beautiful ruins It seems the inhabitants there have the same problems as the last ones: their buildings look different than usual.

Attack / Loss numbers with [nn] are done with veteran general.

The locations of the trees are circled on the map on the right side.
Sector
Enemy
Attack With

Expected

Losses

Sector 1
60 Scavenger, 60 Stone Thrower
19R, 1S, 180C
18R
60 Scavenger, 70 Guard Dog
44R, 156S
38R
60 Scavenger, 50 Ranger
19R, 1S, 180C
16R
60 Ranger, 1 One-Eyed Bert
12R, 88S, 100C
12R
Sector 2
100 Wolf, 1 Croaker
8R, 192S
8R
Sector 3
80 Fanatic, 80 Shadowsneaker
87R, 113S
80R
80 Cultist, 1 Swamp Witch
85R, 115L
80R
80 Firedancer, 1 Swamp Witch
W1:95R, 105C

W2:30R, 170L

125R, 105C
1 Night Spawn

93M, 107S

[ 93M, 157S ]

93M

[ 63M ]

Total Expected Losses

378R, 93M, 105C

[ 63M ]
Rewards