Steel Weaponsmith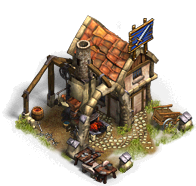 V • E • D
Description
The Steel Weaponsmith takes the Steel, adds a few nuggets of Coal and produces a Steel Sword.
Steel Swords are very handy and production of 2,000 of them to make a fighting force of 200 Soldiers is perfect for the vast majority of early Adventures and battles. If you are careful you can keep these 200 for a very long time and lose only the few necessary to complete some islands faster.
As with other production buildings its output can be temporarily doubled with a Buff and can be permanently upgraded with resources.
Summary
| Resources | Produces | Consumed | Cycle | Construction |
| --- | --- | --- | --- | --- |
| 1,000    1,000    800 | 1 | 2    16 | 24 min. | 25 min. 30 sec. |
Upgrades
Building Movement Costs
Ratios
Appearance
Steel Weaponsmith
Level 1
Level 2
Level 3
Level 4
Level 5