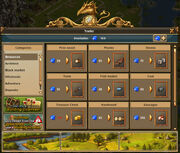 Description
The Store is the chest icon at the bottom right of your screen and gives you access to the games premium content.
Most content is purchased via Gems that you obtain by logging in every day (100 Gems every concurrent 7 days played) or by using real cash to purchase them in bulk.
You should note that nothing in the Stores is necessary to have a successful experience in playing The Settlers Online and (Special Event Items aside) the only really useful items for regular player is the +10 Building Licences, the Noble Residence Deed, Adventures and possibly the +50% Speed Geologist and Explorer.
Sections
The Store is build up in different sections. Each section has different items to offer. The following sections are available:
Special Events
During seasonal events a new in-game currency will be added and collecting the currency (Easter Eggs, Pumpkins, Footballs, Presents, etc.) will allow access to some highly rewarding items. Once the event closes the items will often become purchasable with Gems but at a vastly increased cost.