Storehouse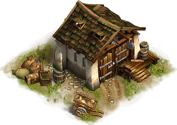 V • E • D
Description
The Storehouse becomes available at Level 8 and acts as a remote version of your Mayor's House with the same properties of storing goods and proximity bonus as well as claiming new zones after defeating the bandit leader.
Placing a storehouse in a newly cleared Sector gives you ownership of the land and once built you can start building other buildings in the area. A Storehouse is different from other buildings in that once it is placed it cannot be moved.
Capacity
A new storehouse adds a basic +100 to your total storage capacity and by upgrading you can further increase that capacity. The table below shows how many additional resources can be stored after the storehouse has been upgraded to a certain level.
Inventory
By clicking on the Storehouse, or the Mayor's House, a window will open that shows your inventory of current resources. For a quick view of the basics you can glance at the Top Bar.
Summary
| Resources | Produces | Consumed | Cycle | Construction |
| --- | --- | --- | --- | --- |
| 80    80   | N/A | N/A | N/A | 5 min. |
Upgrades
| Level | Gems | Resources Required | Upgrade | Per Cycle | Consumed |
| --- | --- | --- | --- | --- | --- |
| 1 > 2 | 221 | 120    100 | 2 min. 30 sec. | +400 Storage | N/A |
| 2 > 3 | 439 | 300   150 | 1 hour | +1,000 Storage | N/A |
| 3 > 4 | 1,913 | 500   300 | 24 hours | +1,500 Storage | N/A |
| 4 > 5 | 1,253 | 500   300 | 7 days | +3,000 Storage | N/A |
| 5 > 6 | 1,031 | 50   500 | 7 days | + 6000 Storage | N/A |
Appearance
Storehouse
Level 1
Level 2
Level 3
Level 4
Level 5