Tavern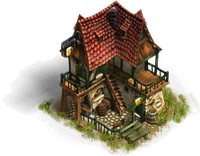 Can recruit specialists.
General Information
Type:
Unique
Level 1:
100  150
 
V • E • D
Description
The tavern is the place to recruit specialists like Generals, Explorers and Geologist. You buy these special Settlers with Gold Coins and the Tavern itself becomes available at level 15, during the Tutorial .
The Tavern is not Proximity dependant to a Stores and should be located somewhere out of the way on your island, possibly near the Guild House.
You wont use the tavern often once built as its supply of specialists is limited and they become increasingly expensive.
Summary
| Resources | Produces | Consumed | Cycle | Construction |
| --- | --- | --- | --- | --- |
| 100    150   | Specialists | | Instant | 10 min. |
Specialists
Building Movement Costs
| Level | Gems | Resources Required |
| --- | --- | --- |
| 1 | 34 | 30   20 |
| 2 | N/A | N/A |
| 3 | N/A | N/A |
| 4 | N/A | N/A |
| 5 | N/A | N/A |
| 6 | N/A | N/A |