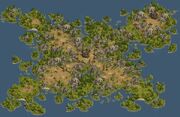 The Black Knights Adventure
This is an "Epic Adventure".
A claim of sovereignty has arrived at your castle.
Hector the Black and his brother Barnabas demand a whole
mountain range as their new territory.
They have already secretly built black castles and recruited
numerous men to defend them. What will you do?
Allow this treason to happen?
Or will you put an end to this claim once and for all?
| | |
| --- | --- |
| Units Required: | xxxC xxxS xxxM xxxLB |
| Days to complete: | 3 Player/8 Days/28175XP |
Requirements
TBD
Guide
Sector
Enemy
Attack With
Losses
1
100 Deserter Militia, 100 Deserter Longbow
100 Deserter Soldiers, 100 Deserter Bowman
100 Deserter Militia, 100 Deserter Cavalry
60 Deserter Militia, 60 Deserter Elite Soldiers, 60 Deserter Longbow, 10 Deserter Cannons

1: 73

73R+1G

84R

[51R]

2
3

25

,

1

,

50

,

50
Bandits
Rewards