Editors Wanted!

Editors are always welcome, feel free to Sign Up, Log in and start adding and updating information.

Before doing so, you may want to read through the wiki rules, although if you have edited Wiki's in the past, you should already know what's expected.

Right now the wiki is in need of helpful guides and updated information regarding the recent update. It also needs pages describing each bandit/troop and resource.
Featured Article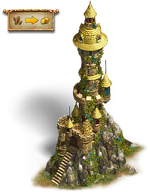 Fairytale Adventures were released into the game on Thursday 8th August 2013.
Aimed at providing challenging gameplay for players who have reached Level 50, the Fairytale Adventures are tough, requiring plenty of Troops, especially Cannoneers.
Successful completion of the adventures rewards the player with Magic Beans, which may be used to purchase exclusive items including a Fairytale Castle. The Castle, when upgraded, will produce Magic Beanstalks, which can then also be used to purchase more items from the Merchant Chest.
Read more...