The Stolen Sleigh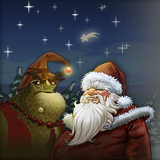 The Christmas feast is in danger once again.


Santa explains in a letter that his old nemesis, the Croaker has stolen his sleigh.
And without the Sleigh there is no way to deliver the presents to the Children!
General Information
Type:
Mini-Adventure
Players:
1
Difficulty:
5
Duration:
2 days
V • E •

D
Description
The Stolen Sleigh is an adventure that was first introduced to the Test Server on Tuesday 12th November 2013. It was introduced onto the main servers on Thursday 12th December 2013, as part of the Christmas Event.  It is an adventure which requires the player to clear all the bandit camps on the map to gain maximum XP.
Requirements
Map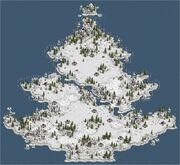 The adventure map is similar to the old one for the Save the Christmas Feast adventure. It is a snowy island in the shape of a Christmas Tree .
Quests
The following sub-quests are required to complete the adventure.
Note that XP from subquests is not immediately received, but added to the total that you will receive at the end of the adventure.
Guide Information
Note that the following background colours are used in the guide below for different Generals:
Normal General
(max. 200 troops)
Battle-Hardened General
(max. 200 troops)
Veteran General
(max. 250 troops)
Major General
(max. 270 troops)
Guide
Enormous thanks go to Asiastrings and Yoeri for providing parts of this guide. 
EDIT: 12/15/2013 By GateKeeper420:  While Checking parts of this Guide, I noticed that some of the Camps DO NOT have the same units in them as I do in my Adventure.  So I will put at the bottom of each camp the Units in my Adventure and what I used to defeat the camp (Highlighted in Blue).  I had already done some of the camps so I was unable to verify them all, please verify the Camp's Units before you follow this guide entirely.
Bandits
The following bandits are found in The Stolen Sleigh adventure: