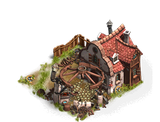 The Wheelmaker is part of the supply chain to create the ultimate weapon.. the Cannon.
As with the other high level weapon buildings the process is very slow and expenesive in resources.
As with other production buildings its output can be temporarily doubled with a Buff and can be permanently upgraded with resources.
Summary
| Resources | Produces | Consumed | Cycle |
| --- | --- | --- | --- |
| 6,400 Exotic Wood Planks, 1,600 Granite & 8,000 Tools | 1 Wheel | 3 Exotic Wood & 6 Iron | 18 min |
Upgrades
Level
Resources Required
Upgrade
Per Cycle

Consumed

1 > 2
1,000 Gold Coins & 3,000 Granite

2 min. 30

2 Wheels

6 Exotic Wood 12 Iron
2 > 3
1,500 Gold Coins & 3,500 Granite

2 hour

3

Wheels
9 Exotic Wood 18 Iron
3 > 4
7,000 Exotic Wood Planks & 6,000 Granite

24 hours

4

Wheels
12 Exotic Wood 24 Iron
4 > 5
9,000 Exotic Wood Planks & 7,000 Granite
7 days
5 Wheels
15 Exotic Wood 30 Iron