Whirlwind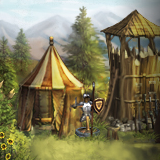 General Information
Type:
Co-operative
Players:
3
Difficulty:
7
Duration:
4 days
V • E •

D
Description
Whirlwind is a Co-operative Adventure, which was introduced to the Test Server on Wednesday 8th January 2014.
It requires 4 participants, who each have to clear two sectors along their path to unlock everyone's third sector. The third sector must then be completed to allow everyone to reach the centre of the island. The centre of the island, where the final sector is located, is blocked until all four players have cleared their own first three sectors, which have the same camps for each player.
Guide Information
Note that the following background colours are used in the guide below for different Generals:
Normal General
(max. 200 troops)
Battle-Hardened General
(max. 200 troops)
Veteran General
(max. 250 troops)
Major General
(max. 270 troops)
Master of Martial Arts
(max. 220 troops)
Guide
Each participant moves anti-clockwise around the map, taking out three sectors each before reaching the middle.
Map
Bandits
The following bandits can be found in the Whirlwind adventure:
Rewards
Slot 1
Slot 2
Slot 3
Slot 4+5+6
Slot 7
Outdated Pre 21-Jan patch on Testserver
Slot 1
Slot 3+4
Slot 5
Slot 6
Slot 2
Slot 7